ShadeCrest: A Gaming Community
​
Summary:
Meowcrest / ShadeCrest
New Messaging
Hoppers & Brewing Stand Locking

Death Chest

Mining World Reset Soon
New PvP rule

Meowcrest / ShadeCrest
We finally got the silly "Welcome to Meowcrest" and picture of Max's cat fixed up that he slapped on there when 1.7 launched. If you notice there is also a new ShadeCrest logo that we are using not only on the launch screen, but also in TeamSpeak. You might notice that I'm typing ShadeCrest instead of Shade Crest. There is some debate over which is the more official way of using the band name. Currently the staff seems to be leaning to ShadeCrest, what's your thoughts?
New Messaging
We have started updating all our messaging and advertising for the server. If you want to help attract new players to Shadecrest, click on the links and bump those threads when you can. If you have any recommendations on how we could improve our marketing, let...
​
Summary:
Arcadian War
New protection for Mods

Dropper Locking & Automated Potion Machines

ShadeCrest Bazaar

Core Values Discussion

This week in Shadecrest
Arcadian War
Excellent work by Ndv bringing this back! There were plenty of participants and people are keeping their swords and PVP skills sharp eagerly awaiting the next war. Ndv tells me that he hopes to make it an event for once every two weeks, but the next event will be a little delayed. He's taking people's feedback from the last one and making sure those changes are in place before the next. Please continue to provide feedback on the war via his thread thread or speak directly with Ndv.
New protection for Mods
Ever made a mod request in a spot, then the mod answered the request only to get killed by something? Well our mods now will be protected from the danger when...
The return of a glorious event lost in the past... I bring you

​
What Is It?
Everyone on the server fights together to retrieve loot stored on top of Arcadia's town spawn. The old town will be brought back from its grave exclusively for this event. A small, select group of fighters will defend the town spawn from oncoming attackers until the loot has been retrieved.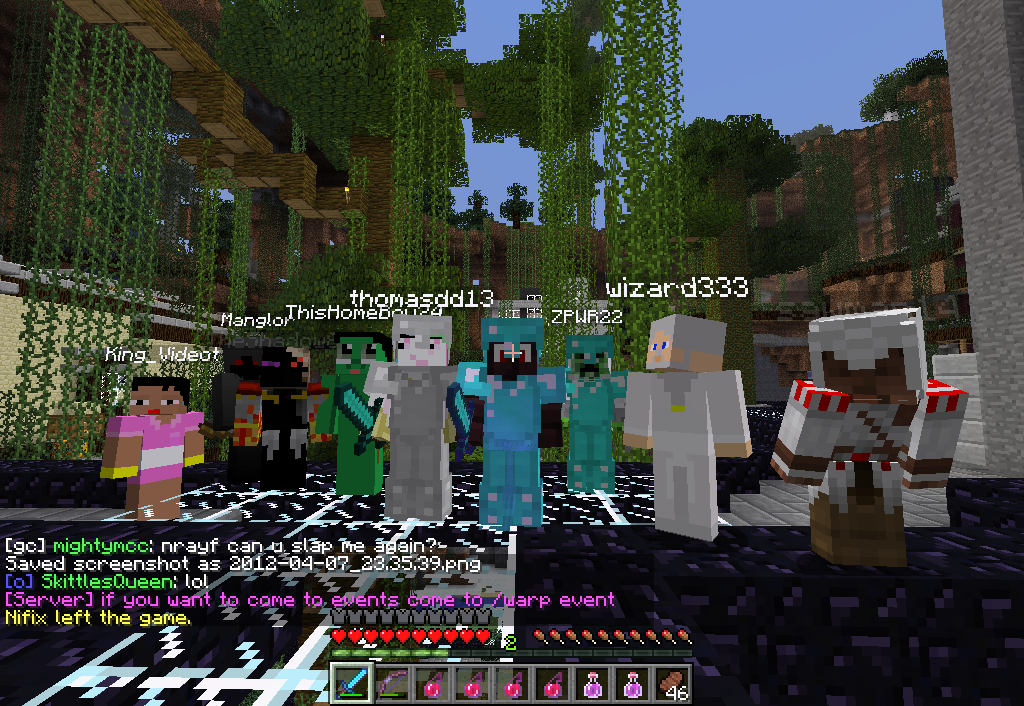 When Is It?
Saturday May 3rd at 5:00 PM EST (same time as events, but on Saturday)
What Do You Need to Do?
​
Yep, we missed it again :'( Oh well, Happy Birthday!
<3 Awastedlife
Hi guys,
A while ago TehRawB, Z_Millla and myself began two large projects on SC. One of these being an adventure map (currently on hold/cancelled depending on Teh's work), and the other a PvP map. As you can tell by the title the PvP map is at a point where we can begin testing how the map plays, and we want SC members to be the first to try and test it for us.
IP and Time:
test.shadecrest.com
16th Jan 10:00 pm GMT
​
The style of the map is cops vs. robbers and all the information is on signs at the spawn of the map, if anything isn't clear we will explain it to you during the test.
​
The new 1.7 worlds are now open!
During the transition period there will be no looting allowed.​
You can complete the form for build requests
here
Please spread the word in game to get your build moved!
The warps to the new worlds will /warp PvE for peaceful and /warp pvp for pvp.
You can get to the wold worlds using /warp oldpvp and /warp oldpeaceful
The
dynamic map
has been mostly rendered for the worlds as well.
Thanks to
cerburus
for making the spawns, we wanted to keep them open this time so they are easy to run out and start exploring. Remember to not build too close to spawn! We won't be moving anything within 100 blocks of it. And thanks to
ezeiger92
for finding us some nice seeds.
EDIT: Final note, mining, nether, and end will be reset in one week.
Keep your legendaries, enchanted books and player heads in your...