ShadeCrest: A Gaming Community
​
Summary:
Survival - New spawn
Survival - Arcadian War @ May 3, 5:00 PM EST
Survival - Bazaar Labyrinth

Survival - BalancePotion

Survival - PhatLoots, Dungeon-Sewers, & the ShadeCrest dungeon program
Survival - Last Minute Updates
Creative - New spawn

Creative - New architect Chandler107
Creative - Dynmap updates
General - Staff organization update
Another great, active week here at ShadeCrest, lots of great stuff going on. Please make sure to reach out to your friends, help vote, advertise ShadeCrest, and welcome back old members who maybe haven't been online in a while. Lots of exciting things in store in the coming weeks as well!
Oh and P.S. I'm
STILL
looking for more feedback
on this thread regarding the future vision of ShadeCrest
.
Survival - New Spawn
Use /warp spawn_new...
​
Summary:
ShadeCrest Vision discussion
Z_Millla retired, Pieman_Is_God taking his place as head admin of Creative
Arcadian War - May 3
Craftbook new blocks
Added Holographic Displays - Creative
Added Microblocks for VIP I and up - Creative
Fix to TnT on Survival
Created a new /w alias for warp.
Added plug.dj announcements
Wowie zowie, big update today. Staff has been very busy this week.

ShadeCrest Vision discussion
Looking for folks' feedback on this discussion. Got a lot of good feedback on core values from people, now I'm looking for more feedback on where we want ShadeCrest to go in the coming years. Please try to be constructive / offer suggestions to changes in the vision and not just shoot down what is written there....
​
Summary:
New Trial Mod - StephenP67
Plug.Dj official ShadeCrest channel
In Development: Potion Damage Balance

In Development: Vote Listener Random Rewards
Space Engineers
Mining World Reset
New Trial Mod - StephenP67
Sharq suggested and staff supported the promotion of a new trial mod, one who is in the Australian time zone. Please everyone show your support for Stephen. So far he's seemed very active and from the times I've met him, seems very helpful to others. Great qualities in a moderator. Stephen you should now have proper rights on the forums.
Plug.Dj official ShadeCrest channel
http://plug.dj/7b815389/
hosted by A360P
Plug.Dj is a collaborative music experience where different individuals can interact with the music choices being played. They can either simply listen, woot, or "meh" music. You get points for participation which can unlock cool things like new...
​
Summary:
Meowcrest / ShadeCrest
New Messaging
Hoppers & Brewing Stand Locking

Death Chest

Mining World Reset Soon
New PvP rule

Meowcrest / ShadeCrest
We finally got the silly "Welcome to Meowcrest" and picture of Max's cat fixed up that he slapped on there when 1.7 launched. If you notice there is also a new ShadeCrest logo that we are using not only on the launch screen, but also in TeamSpeak. You might notice that I'm typing ShadeCrest instead of Shade Crest. There is some debate over which is the more official way of using the band name. Currently the staff seems to be leaning to ShadeCrest, what's your thoughts?
New Messaging
We have started updating all our messaging and advertising for the server. If you want to help attract new players to Shadecrest, click on the links and bump those threads when you can. If you have any recommendations on how we could improve our marketing, let...
​
Summary:
Arcadian War
New protection for Mods

Dropper Locking & Automated Potion Machines

ShadeCrest Bazaar

Core Values Discussion

This week in Shadecrest
Arcadian War
Excellent work by Ndv bringing this back! There were plenty of participants and people are keeping their swords and PVP skills sharp eagerly awaiting the next war. Ndv tells me that he hopes to make it an event for once every two weeks, but the next event will be a little delayed. He's taking people's feedback from the last one and making sure those changes are in place before the next. Please continue to provide feedback on the war via his thread thread or speak directly with Ndv.
New protection for Mods
Ever made a mod request in a spot, then the mod answered the request only to get killed by something? Well our mods now will be protected from the danger when...
The return of a glorious event lost in the past... I bring you

​
What Is It?
Everyone on the server fights together to retrieve loot stored on top of Arcadia's town spawn. The old town will be brought back from its grave exclusively for this event. A small, select group of fighters will defend the town spawn from oncoming attackers until the loot has been retrieved.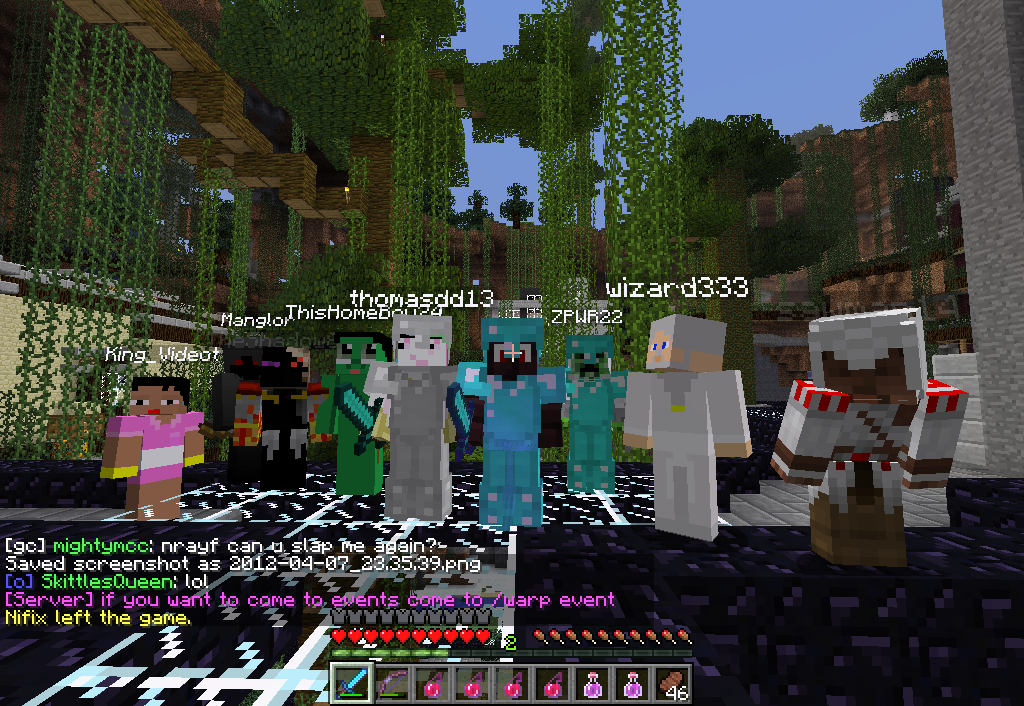 When Is It?
Saturday May 3rd at 5:00 PM EST (same time as events, but on Saturday)
What Do You Need to Do?